HydraFacial
What is a Hydrafacial?
Hydrafacial is a non-invasive facial treatment performed with a patented device to cleanse, extract, and hydrate the skin. The treatment combines the benefits of microdermabrasion and a facial to leave the skin looking smoother, radiant, and more hydrated.
Hydrafacial is suitable for all skin types and addresses various concerns such as fine lines and wrinkles, uneven skin tone and texture, acne, brown spots, and hyperpigmentation. The effectiveness of the treatment and instant results in skin glow makes it very popular and the first choice for those who want to have perfect skin.
How Does Hydrafacial Work?
Hydrafacial treatment includes three main steps:
The first step in Hydrafacial treatments is cleansing dead skin cells, dirt, and oil from the skin's surface to reveal healthy skin. For exfoliation of the top layer of the skin in this phase, dermatologists use a fluid vortex which helps to remove impurities. Next gentle acid peel is applied to the skin to open the pores for the next step.
In this step by hydrafacial device tip similar to the vacuum, dermatologists try to extract all impurities and debris from the pores without pain and discomfort.
Once the pores have been cleaned and exfoliated, it is time for hydration. HydraFacialy device infuses nourishing serum that contains antioxidants, peptides, and hyaluronic acid, which help to hydrate, plump, and protect the skin.
The procedure typically lasts about 30 minutes, and you will see instant results thanks to combining several steps into one treatment. Best of all, there is no downtime post-treatment you can immediately leave the spa with improved skin conditions and a radiant complexion with a more even skin tone. You can even wear makeup after the treatment and return to normal activities and regular skin care.
Benefits of HydraFacial
HydraFacial is a comprehensive and effective facial treatment that provides numerous benefits for the skin.
Deep cleansing 
HydraFacial devices with suction technology help deep clean and extract impurities from the skin, reducing the appearance of blackheads, whiteheads, and enlarged pores.
Hydration
During the hydrafacial treatment nourishing serum and hyaluronic acid are infused into the skin making the skin hydrated and plump. Hydrated skin helps to achieve radiant skin tone and maintain long-term skin health.
Reduced Fine Lines and Wrinkles
The treatment helps reduce the appearance of fine lines and wrinkles by stimulating collagen production and improving skin elasticity. Hydrafacial therapy brings good results in the reduction of signs of skin aging.
Acne Reduction 
Hydrafacial treatment removes bacteria and oil from the skin, which brings acne appearance.
Improved skin tones and elasticity
The treatment stimulates collagen production that helps improve elasticity, and by removing dead skin cells, skin looks brighter and smoother.
Help with hyperpigmantation
Exfoliation as a part of hydrafacial treatment promotes cell turnover, which helps to reduce sun-damaged skin and hyperpigmentation.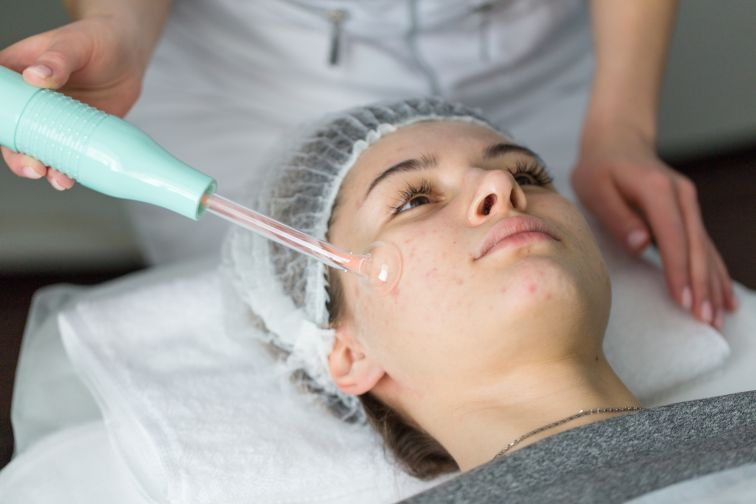 At Yukie Natori Spa Salon we offer the HydraFacial MD procedure performed with a hydrafacial machine.
With the HydraFacial MD you will benefit from hydra-dermabrasion, a chemical peel, LED light therapy (blue light is great for acne while the red light combats aging and rosacea), and extractions in just one facial. The HydraFacial MD resurfacing procedure help reverse the damage the environment and our natural aging process have caused. What is more important, it is suitable for all skin types.
Who Should Get a HydraFacial?
HydraFacial can treat all skin types and is even appropriate for sensitive skin. A wide range of people with different skin problems and concerns can benefit from the treatment.
As we mentioned above, the treatment is excellent for those looking to improve the overall health and appearance of their skin, including:
Individuals with dry skin
Someone looking for the anti-aging solution
People with hyperpigmentation or age spots
All those who want to enhance their overall skin texture
Individuals who have problems with acne-prone skin
Those who want to maintain skin health
HydraFacial is generally safe for most people with minimal potential side effects, but there are some precautions that you should be aware of:
Active rashes, sunburns, or infections on the face
Recent chemical peels
Laser or other invasive facial procedures
Allergies to the ingredients in the HydraFacial serums
Extremely sensitive skin
Pregnancy or breastfeeding
Those are not reasons to avoid it, but to consult with a licensed esthetician or healthcare professional to find the best solution and combination of ingredients for your treatment.
If you have doubts or questions call Yukie Natori's office in New York City at 646.649.5324 for a complimentary consultation to discuss how this treatment can benefit you.
How much does a HydraFacial cost?
Yuki Natori Spa Salon in New York City offers Hydra Facial for $220, and you can also choose:
3 Treatments for $180 each
5 Treatments for $160 each
Frequently Asked Questions
How often should I get a HydraFacial treatment?
It depends on your skin type and the problems you want to treat. It is best to consult a dermatologist to determine the number of seasons for you. Most estheticians recommend getting a treatment every 4-6 weeks to maintain optimal results.
How many treatments do I need to see results?
The number of treatments required to see results can vary depending on individual skin concerns and goals. However, many people see visible skin refinement after just one treatment. To get the best results, most estheticians recommend a series of 3-6 treatments.
Is HydraFacial safe for pregnant or breastfeeding women?
Those are special conditions for every woman, and it's always best to consult with your healthcare provider before undergoing any cosmetic treatments while pregnant or breastfeeding. Some dermatologists do not recommend treatment for pregnant women because of the ingredients as salicylic acid whose effects are not known enough for pregnant women.
How does HydraFacial compare to other facial treatments?
Compare to other cosmetic treatments hydrafacial is a minimally invasive procedure that offers quick results, and takes less time. It also has the ability to moisturize the skin more than other skin resurfacing procedures. For example, microdermabrasion or chemical peels use a different way of manual extractions that are less effective.
One of the main advantages of this treatment is the fact that fully customized to unique skin concerns. The esthetician can adjust the strength and type of the serums used during the treatment to address specific skin concerns.
Conclusion
HydraFacial is a highly effective and customizable skin rejuvenation treatment that offers numerous benefits, including improved skin tone, texture, and hydration, reducing fine lines, wrinkles, and sun damage.
It is popular because this skincare therapy is a non-invasive immediately effective skin treatment that combines benefits from a number of facials into one without any discomfort.
HydraFacial MD cleanses, exfoliates, and extracts impurities and dead skin cells while applying intense moisturizers to hydrate and replenish nutrients to get the best skin.
If you want to transform your skin and achieve a radiant glow with a procedure that uses patented technology, HydraFacial is perfect for you. At Yukie Natori Salon and Spa NYC, you can combine a Hydra facial with a massage or other beauty treatments.
Book your appointment today and discover the power of HydraFacial.